Note About the Campus Email
Starting November 1, the campus email will be returning to its original time slot of Sunday afternoon. This was shifted to the mornings temporarily to get the word out about our online services.
Bridgeway services will still be found on bridgeway.cc, Facebook, and YouTube.
Sunday morning worship continues here at Bridgeway. We'd love for you to join us! You can find our services streaming online here on YouTube and here on Facebook. The chat rooms are open and we'd love to see you there!
While schools are opening, we encourage you to use this time to invest in the spiritual life of your kids. You can find age appropriate resources for children from preschool through 5th grade at bridgeway.cc/kids. Materials will be updated every Sunday, but will remain online throughout the week.

These are being left available to create opportunities for review, reflection, and connection with your children.
BridgeKids Online Classes
September 13 – December 20
BridgeKids is launching our Fall BridgeKids Online Classes. These groups will give kids a chance to build relationships with one another as well as engage with the week's bible story.
Our Elementary group will meet on Sundays from 12:00pm – 1:00pm, and our Pre-School group will meet on Sundays at 10:00am – 10:30am.
More Info
Sunday Fellowship & Prayer with Pastor Eli Hernandez
Please join Pastor Eli Hernandez each Sunday immediately after the 8:00 am and 10:00 am service for prayer, conversation and spiritual dialogue about Sunday's sermon. Please visit https://www.bridgeway.cc/services to join
Prayer Vigil November 1st
As we wind down an unprecedented election season, it is imperative that the people of God come together to pray for our nation. Fear, division, and perhaps even violence are just some of the possible outcomes of an election year already marred by all of those things. On Sunday November 1 at 2:00 p.m., I am calling on the clergy, elders, staff, volunteers, partners, and attenders to gather together in prayer at the Columbia campus parking lot with masks, proper social distancing, and (if you'd like) your own chairs and blankets. We will sing praises to our Lord and pray for our country on the eve of the Presidential election on November 3. Regardless of your political party, your ethnic background, or your socioeconomic class, we will come together as one body of fully devoted Followers Of Christ, United in the Spirit.  Won't you join us?

"if my people, who are called by my name, will humble themselves and pray and seek my face and turn from their wicked ways, then I will hear from heaven, and I will forgive their sin and will heal their land." – 1 Chronicles 7:14  
Grace & Peace,
Dr. David Anderson
If you would like to volunteer, please follow 
this link
 and submit the subsequent form to indicate your interest.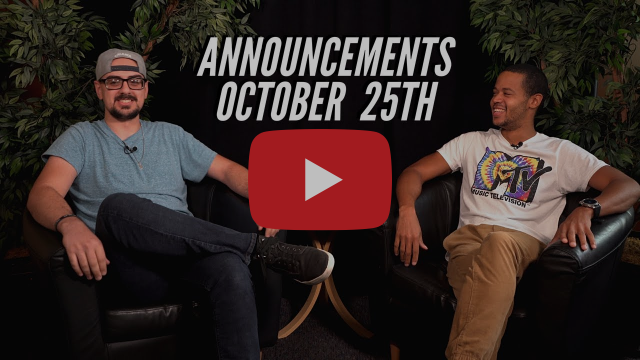 Check out a few of the events coming up this week at Bridgeway!
You can also find this video posted at bridgeway.cc/events
Fellaship!
October 28 | 12:15 pm
Hey guys. We're running it back. Grab your lunch and your smartphone, tablet or computer and let's meet up for a half hour via Google Hangouts for some encouraging discussion with Braxton Young & P. Mich. Check out a message here from Pastor Mich.
More Info
Wednesday Night Alive
October 28 | 7 pm
Wednesday Night Alive is continuing this fall with 12 classes available! All classes will be hosted online through Zoom video conferencing. The first 5 weeks will run from September 16th to October 14th on Wednesday nights. With so many classes to chose from we hope that you are able to plug in and stay connected here at Bridgeway.
Register Here
Student Ministries Presents:
Focus Groups
October 28 | 7 pm
This fall Student Ministries is continuing Wednesday Night FOCUS groups. These online small groups will gather students together in small groups to share a common interest and to have some deeper connection with each other and the Lord.
More Info
Women's Ministry Character Study: Deborah
Nov 2 | 6:30pm
In line with our ministry year theme of "Back to Basics" coupled with focusing on us as women of God, our Character Study series begins on Monday, October 19th. Bridgeway's very own Karen Twigg will guide us through a five (5) session virtual character study of "Deborah". She was a prophet and judge who is known for her wisdom and courage.
More Info
Women's Ministry Monthly Prayer & Fellowship Meeting
November 7 | 9am
The next session of Bridgeway's Women's Ministry Monthly Prayer & Fellowship Meeting is Saturday, November 7, 2020 from 9:00 AM to 11:00 AM. Again, we will hear from another one of Bridgeway's dynamic ladies. November's topic is entitled, "Finding Unconditional Love Across Cultures". Given the strife we see in the world today, this is such a timely message. Together we will hear and discuss the power and impact of diversity.
More Info
Bridgeway Women's Ministry's Health & Wellness: Mindful Mondays
November 9th | 7pm & 7:45pm
Many of you expressed an interest in Health and Wellness for Us. We heard you! Christina, an experience personal trainer and yoga teacher, will take us through 30 minutes of breathing and stretching only. This is not a Yoga class. The sessions are for all fitness levels and will help us learn to relax and focus on ourselves and our bodies. The goal is to refresh and be better prepared for the rest of the week.
More Info
Ignite Marriage Ministry: Friday Night Live
November 13  | 7:30pm
Join us for this time of marriage enrichment in a relaxed, fun environment that leaves you looking forward to the next gathering. Come hear God's heart on marriage and the pleasure God desires for you to enjoy as a couple; share your ideas, questions, fears; grow in relationship with other married couples; and ignite your marriage for a lifetime.
More Info
SHAPE
November 14 | 9am
Registration Deadline: November 3 (to allow for materials to be mailed)
Do you ever wonder what in the world you are supposed to be doing on this earth? "God, what do you want me to do? How can my life make a difference?" These questions will be answered once you discover and understand the S.H.A.P.E. God has given you. After this seminar you will walk away with the knowledge necessary to give your life the focus you have always wanted.
More Info
Exploring Missions in Mexico
November 19 | 7pm
Join us for an interactive hour of learning about ministry in Mexico. Mexico is one of Bridgeway's countries of focus for our missions ministry. We look forward to sharing what God is doing through games, video, and conversation. You can expect to learn about the country of Mexico, Bridgeway's ministry in Mexico, and how you can make an impact in Mexico without leaving you home.
More Info
BCC 201 Partnership Download
November 22 | 9:30am
For those who have not attended the introductory BCC 101, during this season we invite you to jump into the next step in Partnership – the more detailed BCC 201. BCC 201 covers discussion about Bridgeway's Vision, Values, and Partnership Process.
More Info
October is Breast Cancer Awareness Month
Did you know, 1 out of 28 women gets breast cancer?
Did you know that Mammograms can detect breast cancer early, possibly before it has spread?
In honor of the National Breast Cancer Awareness in month of October, the Bridgeway Cancer Support Ministry recommends all women to have a mammogram annually. Our ministry serves Bridgeway partners and their immediate family members who are affected by ALL types of cancer. We provide support, prayer, hope, and encouragement. We are there at the beginning and will celebrate the victories with you too.
Please contact us at: care@bridgeway.ccThis year, the Bridgeway Cancer Support Ministry honors our sister in Christ, a breast cancer survivor, Grace Ligon, for her strong faith in God and her continued fight against cancer. Her daughter, Lexi filmed a short video, "Living With Grace" that we hope will inspire you. We ask you to join to us as we continue pray for her during her journey. You can also wear a Pink breast cancer ribbon during the Breast Cancer Awareness month in October, to honor Grace and other survivors and to raise the awareness. If you want the free pink ribbon, please email us at: care@bridgeway.cc
Living with Grace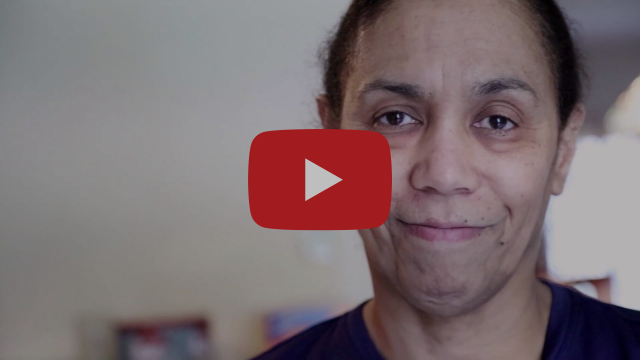 The Community Cupboard will be open as a "Drive-Thru" only, with pre-packaged boxes that will be assembled by volunteers or staff 30 minutes before the scheduled opening. No guests will enter the building. Security will be present.
Columbia on the 2nd & 4th Saturdays from 9:30 AM – 11:30 AM
Closed on Sundays
Deliveries are suspended unless a specific need from someone from Bridgeway arises and then we will ask an employee to make the delivery and not a volunteer.
Thanksgiving Basket Requests
Each year we are honored to serve you by providing Thanksgiving meals to our wonderful community. We pray your Thanksgiving Day is full of love with family fellowship and good food!
Please note: Due to Covid challenges, there will be no deliveries this year. All baskets must be picked up. Baskets can be picked up from one of our two campuses: Columbia or Owings Mills. One basket per family.
To request a Thanksgiving basket, call Bridgeway at 410-992-5832: leave your name and phone number. You will receive a call back confirming your basket request. Call backs will begin Nov 1.
Have a blessed Thanksgiving!
2020 Thanksgiving Volunteers
Hello Bridgeway!
Each year we are able to bless families in our community with a Thanksgiving meal. In order for this to go smoothly we need you. Please consider signing up as a volunteer for one (or more) of the various areas of need. Each volunteer must register for this event.
We look forward to serving our community with you!
Thank you!
Phillip & Princess Fralin
Bridgeway's Thanksgiving Ministry Leads
National Depression Education and Awareness Month
Are you experiencing any of these feelings?:
– Empty, hopeless, trapped or having no reason to live
– Extremely sad, more anxious, agitated, or full of rage
– Unbearable emotional or physical pain
– Life is intolerable
Any of these feelings are important, so please take a depression screening or screen for other mental health symptoms here: mhascreening.org. If you need someone to talk to, here are some 24/7 opportunities to connect: