Content curated by Derek Robinson
Photographs by Derek Robinson and Shauntae Adams
---
Maryland's Vaccine Equity Task Force is teaming up with local governments and faith leaders to ensure every Marylander who wants a vaccine can get one. In Howard County, a partnership with Bethel and Bridgeway churches administered another 200 vaccines to local residents today. pic.twitter.com/ks0iVWYsBK

— Governor Larry Hogan (@GovLarryHogan) April 14, 2021
---
---
Maryland Gov. Larry Hogan, first lady Yumi Hogan, Howard County Executive Calvin Ball and other officials toured a COVID-19 vaccine clinic at Bridgeway Community Church in Columbia on Wednesday afternoon.
The clinic is one the state is running through the Vaccine Equity Task Force. Bethel Korean Presbyterian Church in Ellicott City and Bridgeway Church have partnered with the task force and the Howard County Health Department to vaccinate individuals in the churches' parking lots.
On Wednesday, around 200 people received their first doses of the Moderna vaccine in the Bridgeway Church parking lot with help from both churches' staff and the Howard County Department of Fire and Rescue Services.
"Our goal is to not leave any arms behind. We want to get every single person out here," Hogan said. "We're trying to encourage everybody; we're trying to find them where they are."
Hogan said the volunteers at the Howard churches are some of the 11,400 people in Maryland involved in giving vaccines to residents.
On Tuesday, nearly 75,000 Marylanders were vaccinated against the coronavirus, Hogan said Wednesday. At the news conference, he said the state has the infrastructure capacity to vaccinate 100,000 to 120,000 residents a day.
Maryland National Guard Brig. Gen. Janeen Birckhead, who heads the state's Vaccine Equity Task Force, also spoke Wednesday and called the vaccine efforts from both churches the epitome of equity.
"What's important today is the people right here that we're vaccinating, those 200 in their community getting those shots, are just as important and we do that through equity," Birckhead said.
Frank Eastham, chief operations officer for Bridgeway Community Church, said the church applied to be part of the task force because it's serving a multicultural denomination.
"The fact that we have had over 30 volunteers come out across races, across ages, and the people who are being vaccinated know about those volunteers so they're feeling confident — that if we have this cross section of our congregation assisting with this effort — that it's a good thing," Eastham said. "Because of those relationships, people have felt more confident and comfortable in coming to Bridgeway to get a vaccine."
Bridgeway vaccinated 150 people on April 7, and Bethel Korean Presbyterian Church plans to vaccinate as many as 800 people at its clinic from 10 a.m. to 3 p.m. Saturday.
The county health department offers clinics for all eligible residents, as well as targeted clinics for vulnerable populations. Howard residents who are interested in receiving the vaccine through the health department should complete the interest survey at howardcountymd.gov/Departments/Health/MM-Alerts-and-Recalls/COVID-19-Vaccine.
"This vaccination will not only help my congregation to feel safer but also provide protection to the wider community," said Daniel Baeq, pastor of Bethel Korean Presbyterian Church.
Hogan said as more people schedule and receive vaccines, the focus is shifting to people who are hesitant and not registering to be vaccinated.
"If we can't get 80% of people to get a vaccine, we're not going to put this virus behind us," Hogan said.
So far, 24.2% of Maryland's population is fully vaccinated, according to the Maryland Department of Health. Howard County ranks third in the state with almost 30% of its population fully vaccinated.
Eastham said the presence of Ball and Hogan helps encourage more people to get vaccinated.
"When you have public officials like our governor and our county executive come to events like these, it really adds credibility and confidence," Eastham said
---
---
Gov. Larry Hogan stopped by a Howard County church Wednesday afternoon in a push to get more people vaccinated for COVID-19.
Hogan went to a clinic at Bridgeway Church in Columbia to bring attention to the accessibility of the vaccine. As of Wednesday, half of Maryland adults had received at least one dose of a vaccine, including 80% of those 65 and older.
"When you've reached over 80% of people over 65, it's those 20% that are still in that category that's most likely to be hospitalized or to die and we want to get everyone covered," Hogan said.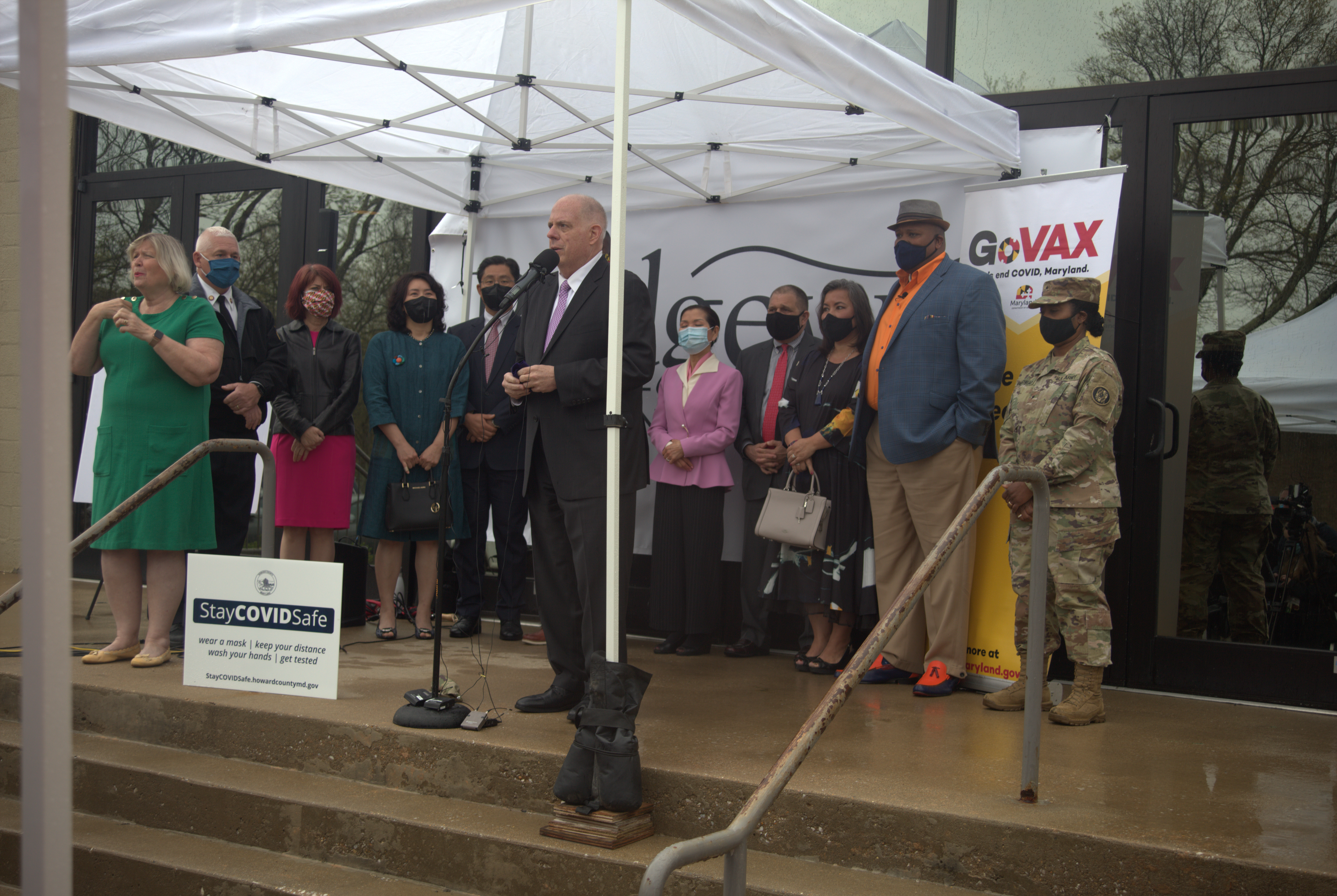 Bethel Korean Presbyterian Church is also a part of this clinic. They gave out 100 shots today. They'll do 800 this weekend
Howard County Executive Calvin Ball credited the work of health officials.
""Since vaccine became available, we have quickly been getting shots in arms, and nearly 45% of our residents have received their first dose," Ball said in a statement. "Now with expanded eligibility and increasing supply, we must do the hard work of ensuring that communities of color, our more vulnerable residents, neighbors with limited English proficiency, residents of all abilities, and people who have limited access to online registration can get their vaccine."